Less than a year left to the European Amputee Football Championship in Krakow, and it is already known that the players will have enormous support not only from supporters, but also from Robert Lewandowski. The best Polish player became the tournament's ambassador, and the spot with the captains of both teams is promoting, among others, UEFA and PZPN.
Polish and European amputee football players can count on the special support of one of the best players in the world. Lewandowski has been a sponsor of the Polish national amputee football team for two years, and now, by promoting Kraków EURO 2020, he will also support the development of discipline in Europe.
I am glad that I can support such a fanstastic, important initiative as amputee football. I followed our team during the World Cup in Mexico and recently, live, during the Amp Futbol Cup. I am very impressed with their game and character. They are real tough guys who provide us with a lot of positive emotions. I invite everyone to Krakow for the European Championship matches. It will be a great event! – says Lewandowski.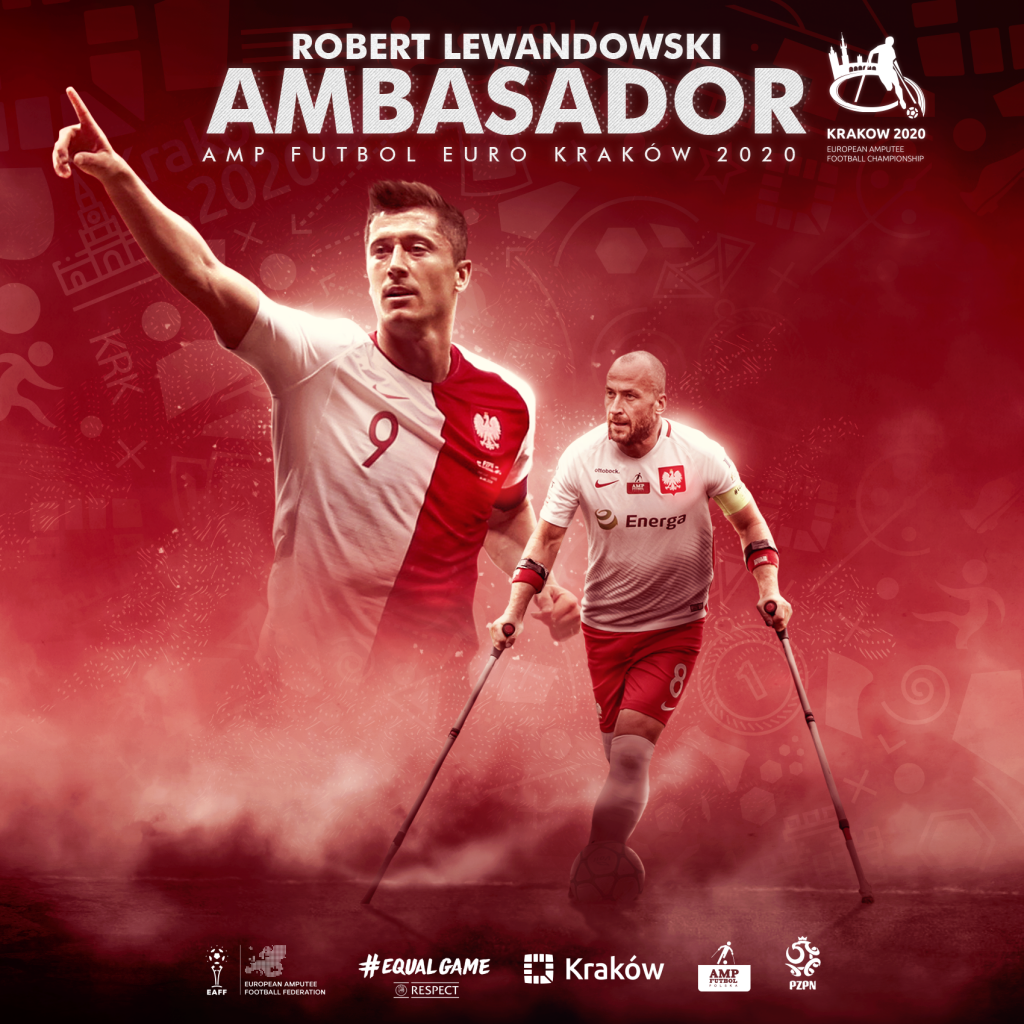 Next year will be special for Lewandowski and for white and red amputee football players, including captain Przemysław Świercz, the second hero of the spot just published. For both captains it will be a year of preparation for the European Championship and the fight for medals in the most important event on the continent. Both also count on great support from fans.
Robert's support is a great honor for our team. We are both preparing for EURO 2020 and I know that both of our teams want to fight for the highest goals in these events. – says Przemysław Świercz, captain of the white and reds. – 41,000 spectators watched the final of the previous European Championship big-time and with the support of Robert we hope for similar interest in the tournament in Poland. I am glad that, apart from Lewy, UEFA also supports us. This shows that amputee football is a serious discipline and that a great event awaits us.
Robert Lewandowski will especially support Poles, but his presence and role of ambassador are also important for other participants of the European Amputee Football Championship. Turks defending the title of the best on the continent will come to Krakow, the previous Russian World Champions counting on gold medals, or very strong Englishmen, for whom will the tournament podium will certainly be the goal. Despite the great competition, Poles are also aiming at lifting the trophy, and the triumph in the last Amp Futbol Cup after a great final with Russia has shown that white and red must be included in the group of main favorites.