On 2nd February, will mark a historical day in Cracow, the host-city of European Amputee Football Championship 2020 as he Official Draw will be held. Sixteen national amputee football federations will learn of their group opponents for the second European Championship
The draw will determine who will play against Poland in the Opening Game on 13th September 2020 as well as group fixtures that will be held from 14th till 16th September 2020. Poland alongside Turkey, Russia and England will be drawn from the first pot which will see the four teams as favourites to lift the European Championship. Turkey, the defender of the title and silver medalist of last Mundial will be expected again to lift the title, whilst Russia is one of the most renowned teams in the history of the discipline with the World Champion title in 2014. England is the silver medalist of the last European Championship and has tremendous support from some of the world best football clubs such as Manchester City, Everton and Arsenal.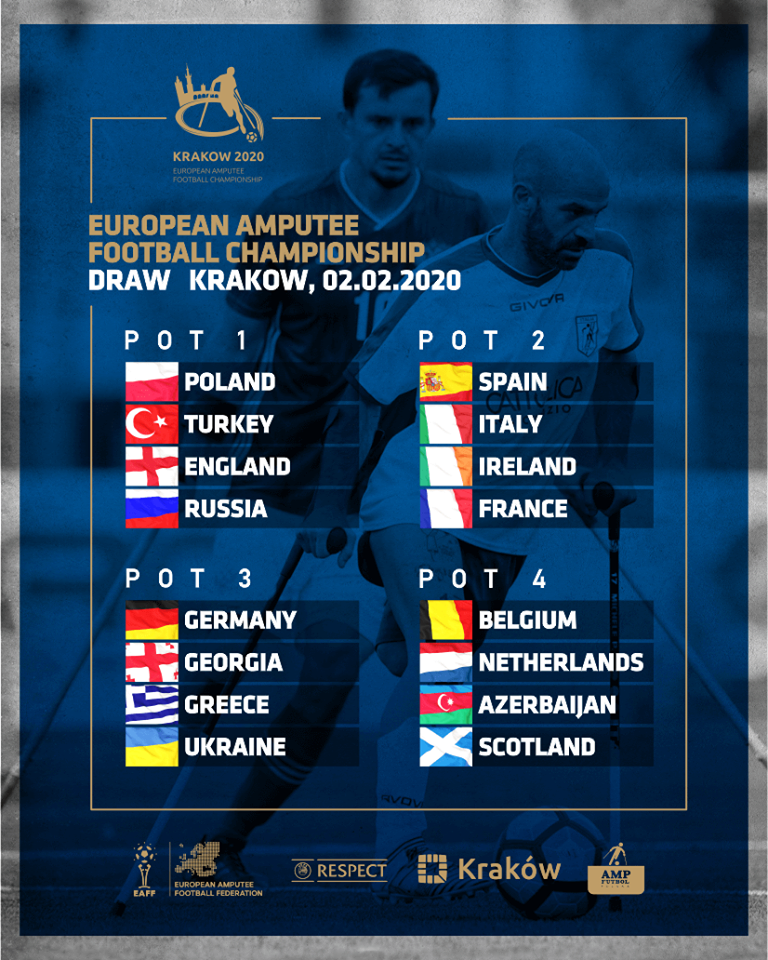 The football giants fill the second drawing bowl. Spain – the fourth team of last Euro – seems to be the strongest of the group. But Italy, France, and Ireland also has their own lofty ambitions. There are Germany, Georgia, Ukraine and Greece in the third pot and Azerbaijan, Netherlands, Scotland, and Belgium who will be seeded in the fourth pot.
The draw ceremony in Krakow, hosted by Michał Pol, will be graced by the participation of many special guests and a special celebration. EAFF federation prizes will be presented for the first time for their outstanding contribution to the development of amputee football in the world. The composition of the honorary committee of EURO 2020 will also be announced.