An interview with Marek Dragosz, the Polish national team manager
We are entering the Championship as its organiser… Is the fact an additional incentive to motivate the team to an even better attitude on the pitch?
We are organising the Championship, and we are the host, we will welcome the best teams of the continent, so, it is inevitably a kind of obligation. We want to present ourselves in the best possible way. We also want people to come to the stadiums in large numbers not only because of the tournament itself but also our attitude on the pitch. Without a doubt, this is a stimulus, and I think that full stands are an additional motivation for every sportsperson, somewhat giving wings. We have already experienced it, playing in front of full stands at the Prądniczanka Stadium. So, hopefully, we will also experience it when playing matches during the championships. The opening match will be spectacular, which I hope will ensure attendance at subsequent meetings. It appears a considerable sports challenge, and organisational one as well.
Will one of Marek Dragosz's dreams come true that after 10 years of working in amputee football, Poland and Kraków will organise such a prestigious tournament?
I have a lot of dreams about amputee football. The fact that we are going to host such a big event, after my previous experience from events of this rank – the European Championships or the World Championships, and play in my own country, play in my city where I was born, where I have always lived, is undoubtedly a cherry on the cake. Perhaps even the culmination of my ten-year work.
I hope that this tournament will be a reason to realise my other dreams, connected with the development of this sport in Poland. Thanks to good organisation, satisfactory sports level, and God have mercy, good results, amputee football will get an extra kick. I would like indirect results of the championships to be the development of clubs, the growth of the mass popularity of this discipline and, above all, the implementation of the junior project. It would be a comprehensive base for a pyramid that could develop amputee football in Poland for years.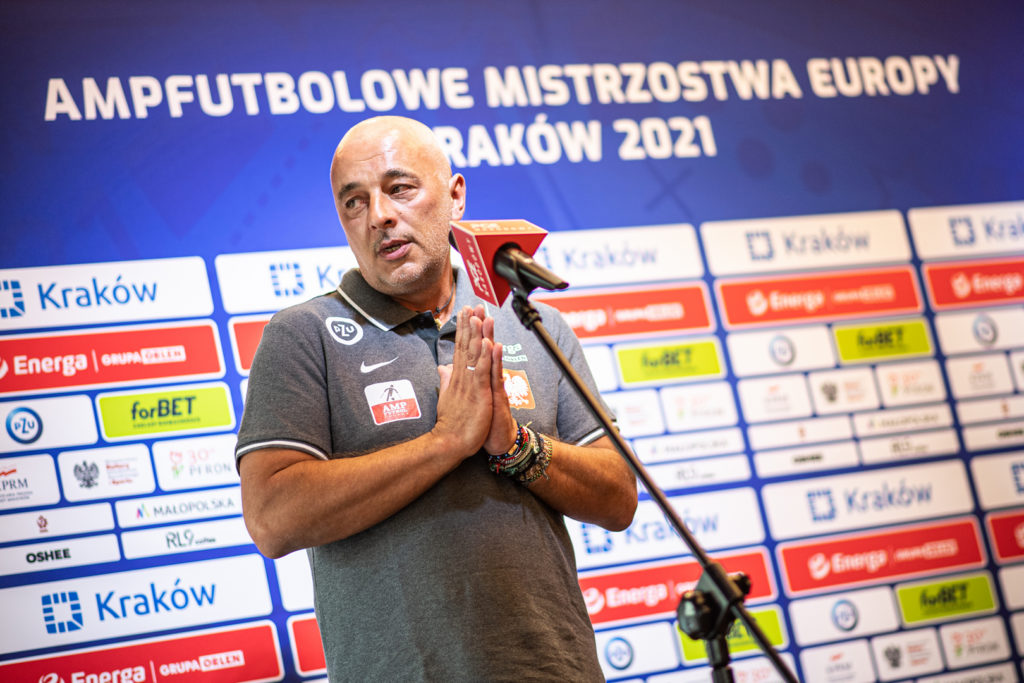 What goals does the Polish amputee football team set itself just before the European Championships in Kraków?
I do not like to talk about goals. I have the definition of sport in my head; namely, it is not organisation, money or contracts that win in the sport. We are a strong team, well prepared, and if only we avoid health problems and injuries, we will present ourselves well. I always say that I would like us to win every subsequent match. If we win a lot of matches, we will climb up the tournament ladder and eventually get to the medal zone. Anything is possible there. We have five, six teams from the top – Russia, England, Spain, Italy, and our representation at this event. Above all, Turkey is a very strong team. I don't want to talk about the purpose. I can talk about my dream. After the work done over the last years and the close period of preparation for this event, we have grounds to dream of a medal, and I would very much like us to realise this dream.