European Amputee Football Championship will not take place in 2020. Due to COVID-19 pandemic it has been postponed to September 2021. Both Organization Committee and tournament Ambassador, Robert Lewandowski hope that next year it will be possible to organize Amputee Football Euro at full stands.
"I believe that despite postponing it to 2021, Amputee Football Euro held in Krakow will be a great sport event. I am convinced that our national amputee football team will do its best and will fight for medals. Of course I am with them also next year" – Robert Lewandowski, amputee football sponsor and Ambassador of Championship Tournament says.
Organizing Committee fought till the end to organise this highly expected competition according to the schedule but finally it turned out to be impossible. Polish Amputee Football Association and EAFF (European Amputee Football Federation) in agreement with all participating national teams and host city Krakow took the decision to postpone the tournament for exactly twelve months. European Amputee Football Championship will be held from 12th till 19th September 2021 in Krakow. Competition formula will be maintained as well as Official Draw results.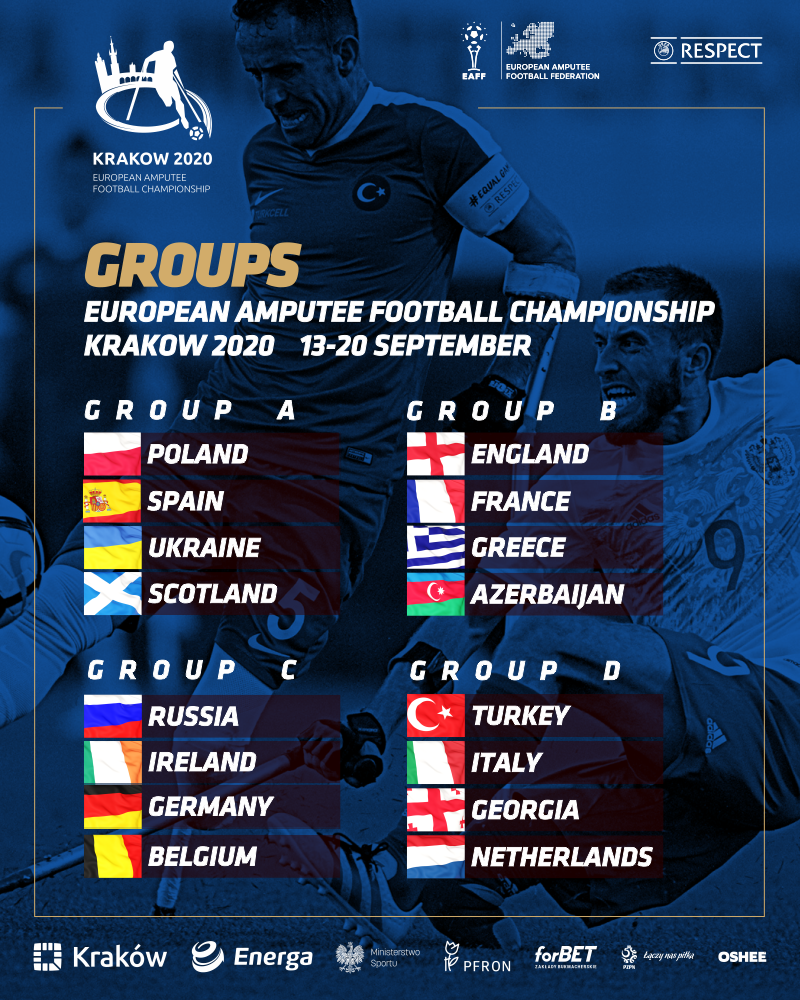 – By organizing Amputee Football Euro in Krakow we wanted to thank our fans for their presence and support. We really hoped to organize the tournament at the original date – Mateusz Widłak, President of Polish Amputee Football Association says – However, pandemic situation in other European countries is more difficult and unstable than here in Poland. In solidarity with all participating teams and also with white and red supporters we decided to postpone the tournament to next year.
This has been a very hard decision to postpone this years European Championships in Krakow until September 2021. However in order to ensure that athletes can play under the best conditions and to make it safe for all the fans it is the correct decision. I would also like to thank Amp Futbol Polska and the City of Krakow for all there hard work & support during these difficult times and I know the teams and athletes will be eagerly awaiting next years event – adds Ian Clarke, EAFF General Secretary
Jacek Majchrowski, Mayor of Krakow, the host city of the tournament, also points out the limited access of fans to sport venues as a one of key reasons for such a desicion – We took into account restrictions concerning mass events currently in force. All indications are that many amputee football supporters would have to resign from supporting our national team at the stands. And yet we organize this international event for them.
What is important, despite postponing the tournament and current crisis situation, all partners and sponsor confirmed their involvement in the event also in the next year
Krakow as a host city declares its full engagement and support at unchanged levels – Jacek Majchrowski says and adds – I am convinced that European Amputee Football Championship held in 2021 will be a great sport event celebrated together with thousands of spectators at the stands.
"Of course I wish that Amputee Football Euro would take place at its initial date, as it was the most important competition for us this year and we were already preparing for it for a long time. But we are all aware that we didn't have control over pandemic. I cannot imagine holding such a big event without spectators, especially Polish ones" – Przemysław Świercz, captain of the Polish National Team says. However this experienced player seems optimistic – "I always try to see positives in any situation so I plan to take advantage of this additional year to improve my skills. All teams should be stronger next year".
Owen Coyle Junior, head coach of the English national amputee football team concludes – We are naturally disappointed around the postponement but on the other hand extremely excited for Krakow 2021. All countries will have time to prepare and adapt to make sure they are ready to challenge to become European Champions and we are no different. We will be ready.