Thousands of people at the stadiums, hundreds of thousands watching in TV and millions following official social media content. What is more, information in all the biggest Polish media, TV broadcasts of matches from three countries, and even material on BBC World. Additionally, two full-length documentaries and a published book. The echoes of the European Amputee Football Championship Krakow 2021, a unique event that turned out to be not only a sports but also promotional success, do not stop. The organizers and players hope that thanks to this, the discipline will grow in ever more dynamic way.
"We have had a great time. We are still working on the final summary of the Tournament, but I can already say that this Championship in Krakow turned out to be a huge success, both in terms of sports, marketing and media" – says the president of EAFF, Mateusz Widłak.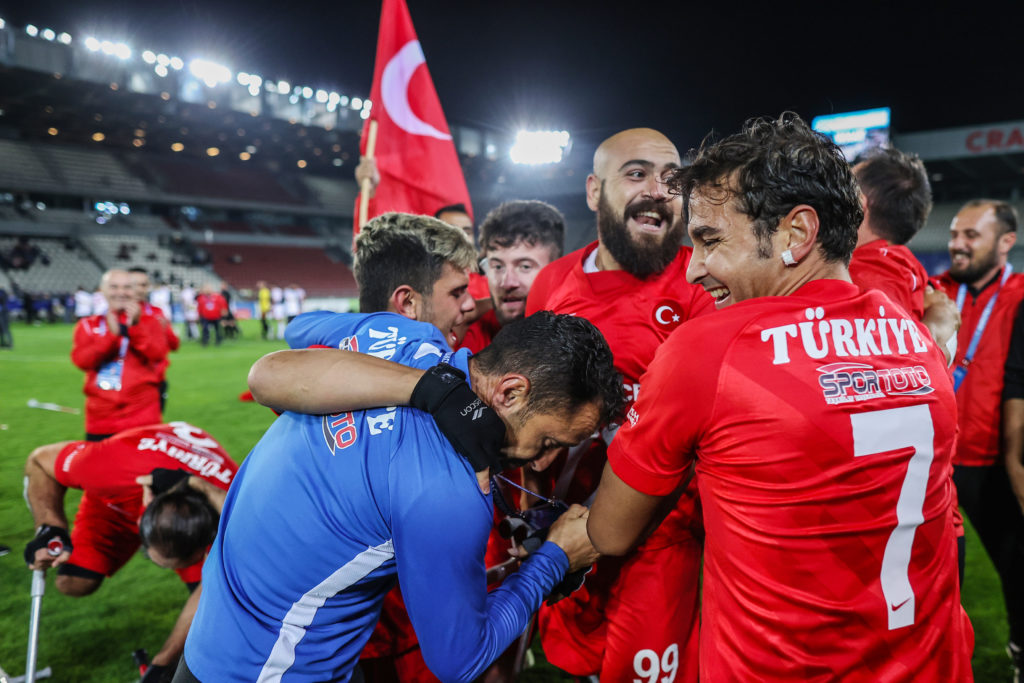 As expected, the title of European Champions was defended by Turkey, who won against Spain 6:0. Poland – for the second time in a row – took the third place, gaining the bronze medal. "We really wanted these Championship to become an important step in developong our discipline and a trigger for spreading widely the message about the idea of the amputee football. And I believe we did it! I don't want exaggerate, but it's really hard to find someone who hasn't helped us with our success" – says President Mateusz Widłak.
Indeed, European Amputee Football Championship turned to be a very attractive event for supporters. It is enough just to look at the attendance at particular games. Matches of Polish National Team at Cracovia Stadium were watched by several thousand fans and the Pradniczanka Stadium was filled to the last seat each time when Poles played. There were also a lot of supporters at the games of other teams at the Garbarnia stadium, including foreign fans from Turkey, Belgium and Germany. A great job to promote Amputee Football EURO did Krakow – the Host City of the Championship.
"It was a celebration of unique athletes and magnificent fans. They have worked the most for the success of Amputee Fooball EURO in Krakow! We did not expect that so many fans at stadiums in Krakow and those who were watching games in TV and via Internet will fall in love with amputee football, which is still so young discipline. I can admit that this is a huge inspiration for our city to make next steps together with amputee football community. And the "five star" rate awarded by the president of the Amputee Football World Federation to Krakow city for event organisation motivates us to organize further competitions. Maybe it will be the final of the Champions League" – sums up Janusz Kozioł, plenipotentiary of the Mayor of the City of Krakow.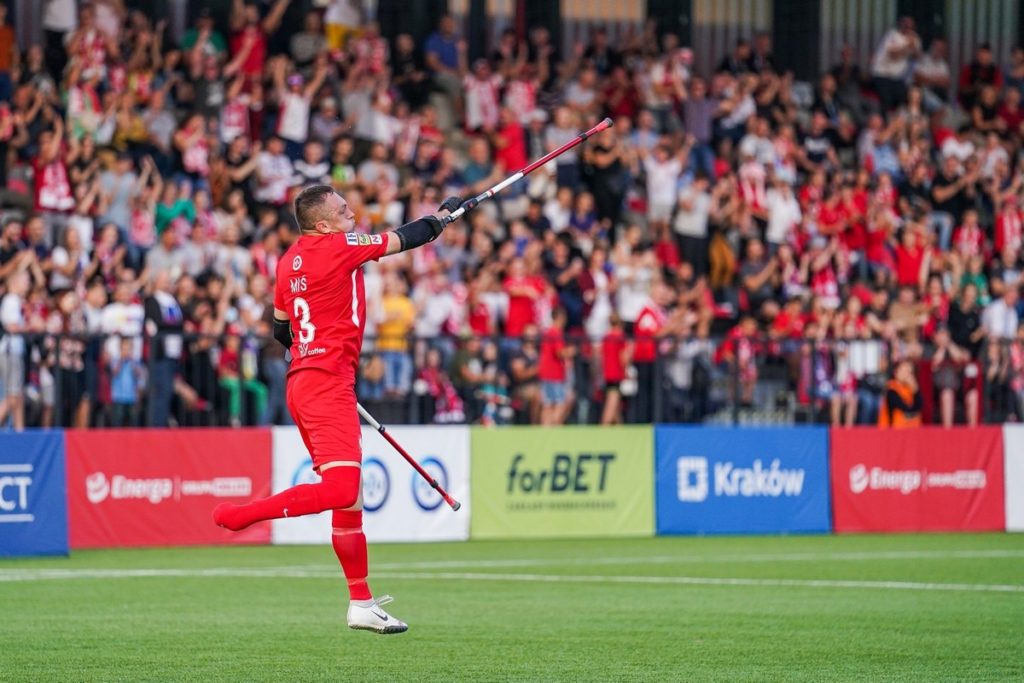 Another very important aspect of Amputee Football EURO was TV broadcasting. All Polish national team matches could have been watched in free-to-air TVP Sport (Polish Public Sporting TV) and the average TV audience was over 230 thousands for the match. Moreover, the semi-final game Poland – Spain was record-breaking and had been watched by 407,000 viewers. Great numbers can be found also at the Internet – only on Youtube over 600,000 viewers have watched "Polish" games so far.
What is more, all 38 matches of the European Championship could be watched on the website and in the TVP Sport (Polish Public Sporting TV) application as well as on Facebook Amp Futbol Polska and EAFF. Thanks to this the amputee football message also reached to foreign fans who, for various reasons, could not have appeared in person at the Amputee Football EURO. In addition, some matches were also broadcasted live by public televisions in Turkey and Ukraine.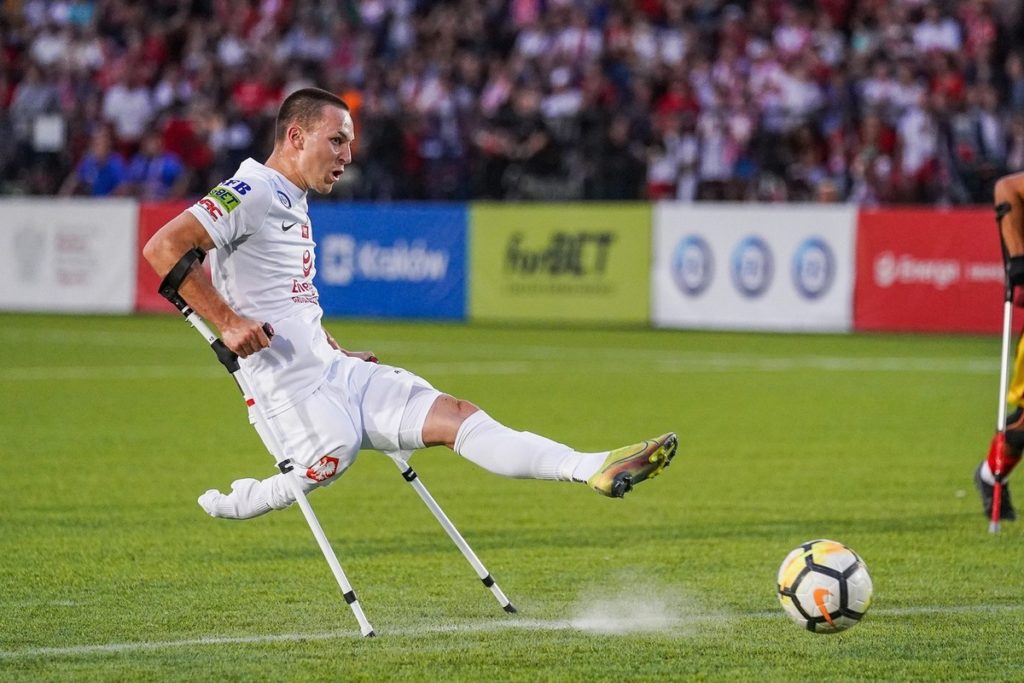 The materials from the Tournament had been showed not only by the biggest Polish news agencies, but also by foreign ones, such as Turkish TRT TV, Italian RAI, and even by BBC World TV (see it [HERE]).
Another beautiful aspect is the popularity of official amputee football EURO channels in social media. The tournament was actively promoted by, among others, UEFA, the Polish Football Association, as well as the ambassadors such as Kamil Grosicki and Robert Lewandowski. One of the tournament goals turned out to be an internet viral and got almost 20 million reach! Check it out [HERE].
"We made increibly big numbers on Facebook, Instagram, but also on Twitter and TikTok. The number of people who follow our profiles increased by several dozen percent, while individual posts beat all our records so far, often with multi-million reach" – says Mateusz Widłak.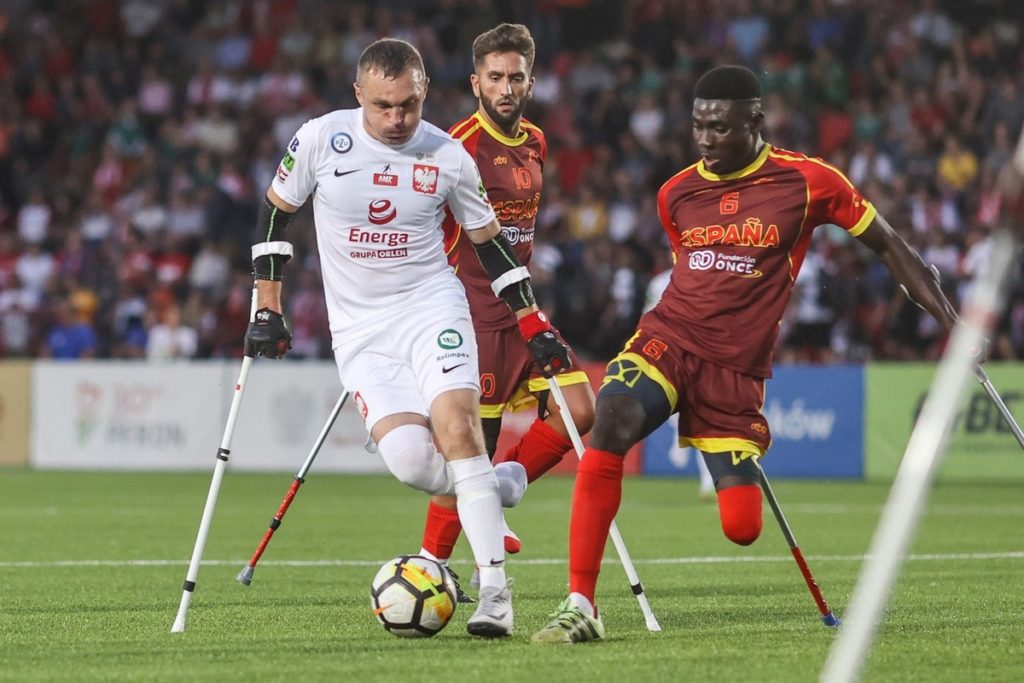 The great success of the European Amputee Football Championship Krakow 2021 is hoped to be a great impulse for disicipline growth.  "We have witnessed historical moments. Together with the players, coaches, employees and the whole community, we count on and will work to transform the success of this championship into further, dynamic development of the discipline. I would like to pass big words of appreciation for the players of all teams, thanks to whom and for whom we develop the amputee football idea. Their characters, will of fight and great sports results are something that cannot be ignored. What is more there would be no Amputee Football EURO Krakow 2021 without a support – financial, but also organizational or expert – of our numerous sponsors, business partners and friends who believed in the project of EURO and participated with us in the organization of this huge event. At this point, I would like to thank them with all my heart" – says President Widłak.
Krakow was the Host City of the Amputee Football EURO, Main Sponsor: Energa Grupa Orlen, Sponsors: PZU and ForBET, Partners: Polish Football Association, Malopolska, RL9 Coffee and Oshee, co-funded by: The Chancellery of the Prime Minister, Ministry of Culture, National Heritage and Sport and State Fund for Rehabilitation of Disabled People. The championship had been supported by UEFA.